Weekly Ad Sharing Between Retailers
The IGA Web+Mobile system provides advanced Weekly Ad features for IGA independents at a low cost due to economies of scale. For a retailer with multiple stores, a base digital ad is shared by all stores, which enables lower costs per store.
Even more valuable is the ability for single store operators to share a based ad with other independents, with savings as if they were part of a supermarket chain, and yet with their own ad branding and pricing.
Independents with No Ad Sharing
For independent, one store retailers with unique printed ads, there is no means of sharing a base electronic ad. The following examples are for two single store retailers who use the same wholesaler, and the same ad printing company, but have a completely different ad layout and set of items on each page. Their fees would be the highest monthly rate, due to no sharing of base ads.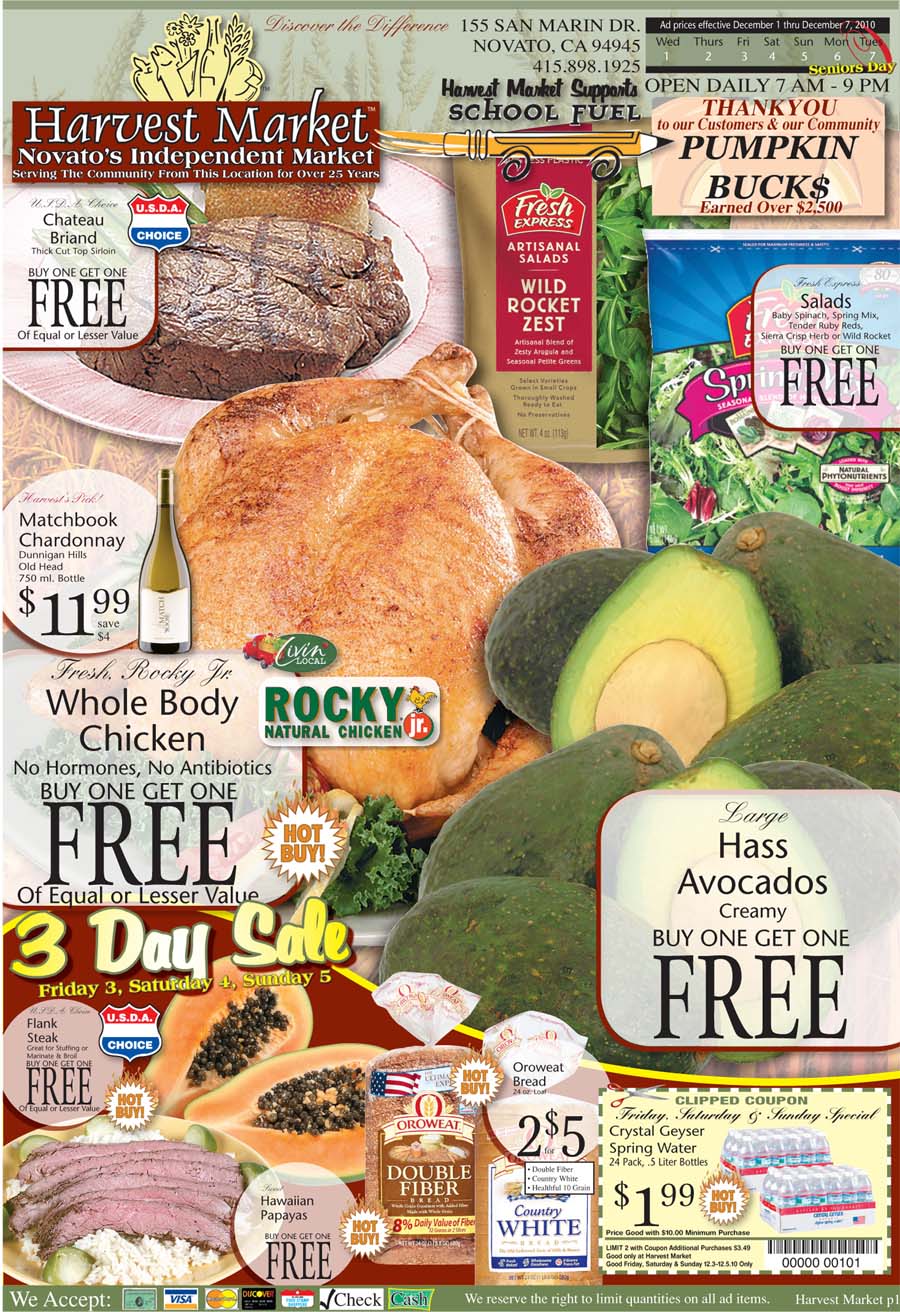 Independents with Ad Sharing
Single store retailers who do share a print ad layout may be able to save significantly. Each retailer can have a certain amount of differences in their ad, including pricing differences and item substitutions. The following ads are from two independents, and have a similar layout with most items the same.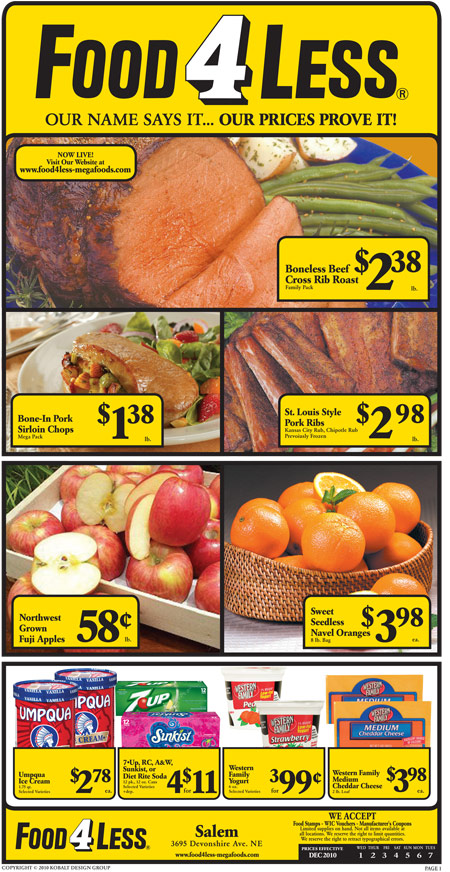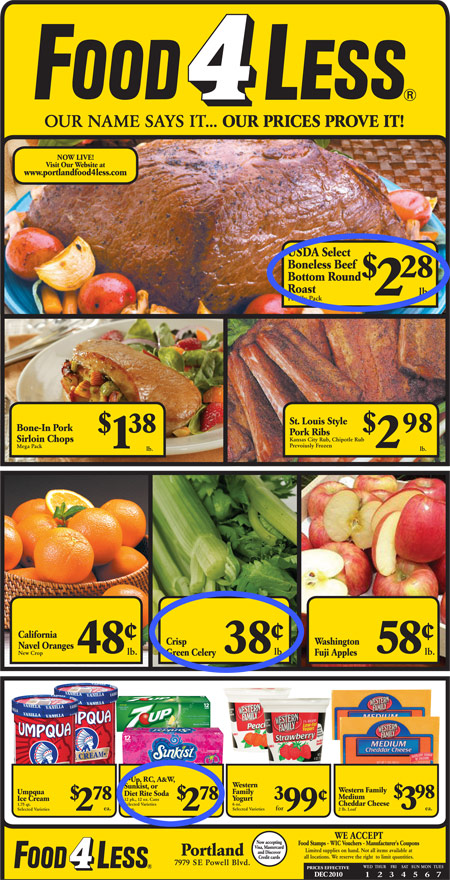 Note that there are a number of differences, as circled above. These differences are handled via a simple versioning spreadsheet, provided by the retailer or printer. This is an exception process that only requires that the differences are communicated. In the above example, there are three versioning differences, including an item substitution, a new item, and one retail price changes.
The following is an example versioning spreadsheet for the first page of the ads above. Note that these version records are captured in the system which will automatically generate a unique ad, with correct items and prices for each retailer.

For independents who share a base ad with twenty other stores, the ongoing monthly fees are greatly reduced.
What Qualifies for Ad Sharing
The first two examples are stark differences in ad sharing. However, the following guidelines should be considered when determining whether two retailers qualify for ad sharing.
The number of print ad pages match.
The start and end dates match or are different no more than four days.
The retailers, or their wholesaler, or print company, can provide the base ad pdf's and the versioning spreadsheet accurately and on time.
The items per page closely match each other (see below).
The graphics images for the ad items closely match each other (see below).
The retailer accepts the possibility that the ad item sequence for their store may not always match their print ad.
There are not many version differences between retailer's ads.
These characteristics are normally met every week.
What Doesn't Qualify
There are a number of examples in which many characteristics are met for ad sharing, but in the following examples, they may not qualify.
Too Many Ad Items
The normal ad for the IGA system will consist of a four page print ad, with a maximum of 120 ad items in total. If a retailer has over 130 ad items in their version of the ad, it may be that the ad is not considered to be shared, and higher fees will apply.
Excessive Versioning
If a retailer frequently has too many differences in ad items from the "base" ad, it causes extra labor and can also result in more errors that when they are treated as separate, non-shared ads. If there are more than 20 records in a retailers versioning spreadsheet, the ad is not considered to be shared, since this means that too much labor will be needed to create and maintain their ad.
If the retailer has between 15 and 20 records in their versioning spreadsheet, but if most of them are either new items or item substitutes, there will be significantly more effort in adding new item graphics that match correctly with the version.
Multiple Ad Versioning Spreadsheets
Retailers are to only provide a single ad versioning spreadsheet per week. Otherwise, significant additional effort will be required to go through another versioning phase; if this happens frequently, it will not be considered a shared ad.
Closely Matching Ad Graphics
If one retailer has generally the same ad items, but requires the use of very different ad item graphics for over five items in their ad, it is not be considered a shared ad.
In addition, if one retailer has grayscale ad item graphics in their print ad, and insists on having the online ad reflect that as well, whereas the other retailer has color graphics, it will not be considered a shared ad.
Result of Not Qualifying for Ad Sharing
Websites that don't qualify for ad sharing due to any of the reasons stated above will have higher fees than those who do qualify.
Opportunity to Later Qualify
Retailers can save significantly by modifying their print ad process to qualify for ad sharing. Any group of nearby retailers, especially with the same primary wholesaler, and agree to a common layout with consistency in the items chosen. Their fees will be lowered once they have a full month of ads that qualify for sharing.
Common Misconceptions on What Constitutes a Shared Ad
The IGA system uses the term Shared Ad Group to indicate that the retailers in the group all qualify to have their ads be considered as shared, and as noted above, the criteria for this are quite specific. Sharing an Ad Planner does not mean you qualify as a Shared Ad group member for the IGA system.
Many wholesalers and retailer groups consider themselves to be part of an ad group based on a different set of criteria, such as having the same wholesaler and the same print house. It's important to recognize the difference and minimize frustration that might be caused if a clear understanding isn't provided early in the process.